In the spirit of Halloween and my love of baking, I decided to enter the "Booo-tiful Halloween Cupcake Contest" hosted by a blog I like howtoeatacupcake.net. My friend Angie was hosting a Halloween party, to which she suggested we bring goodies, so I figured it was a good excuse! I wanted to create something unique with fall flavorings, so I started pondering all my favorite fall foods and I came up with the following:

"Frankenstein Brain" Cupcakes
(AKA Zucchini Chocolate Chip Cupcakes with Cinnamon Cream Cheese Frosting)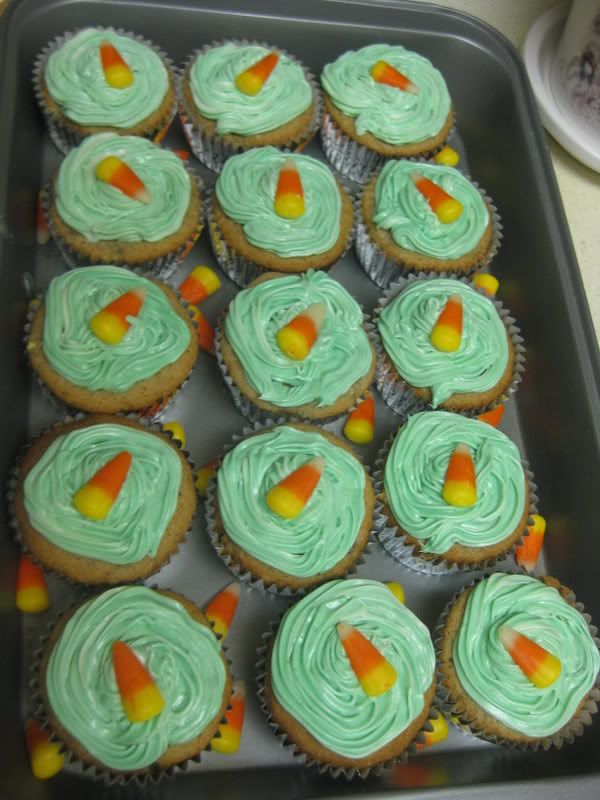 Cupcakes:
1/2 c. butter
1 3/4 c. sugar
1/2 c. vegetable oil
2 eggs
1 tsp. vanilla extract
1/2 c. sour milk or buttermilk
1/2 tsp. ground cinnamon
1/2 tsp. ground cloves
2 1/2 c. all-purpose flour
1/4 c. cocoa
1 tsp. baking powder
1 tsp. baking soda
2 c. finely grated zucchini
1 (6 oz.) pkg. chocolate chips
1 c. chopped walnuts or pecans




Preheat oven to 325 degrees F.

In mixing bowl, cream butter and sugar. Add oil, eggs, vanilla and sour milk; beat well.

In another bowl combine cinnamon, cloves, flour, cocoa, baking powder and baking soda.

Slowly add dry mix to liquid mixture.

Add zucchini and chocolate chips. Mix well.

Pour into muffin tins.

Bake for 10-15 minutes.

* NOTE:
Since the recipe was for a cake, I added an extra 1/4 cup of milk to make the batter a little less thick.
Frosting:
8 ounces cream cheese, softened
1 teaspoon ground cinnamon
5 3/4-6 1/4 cups powdered sugar
sifted 1/2 cup butter, softened, not margarine
1 teaspoon vanilla


Beat together cream cheese, butter, cinnamon and vanilla on medium speed until light and fluffy.

Add about half the powdered sugar and beat until mixed well.

Gradually add the remaining powdered sugar until you reach a spreading consistency.

* NOTE:
I added extra cinnamon and a dash of nutmeg because I like the flavors. I also dyed the frosting green for fun!
The final product:
I am very happy about the way they turned out! A few people (AKA Brad) were a little afraid of zucchini, but for the most part I got really great reactions! Even if I don't win the contest it was really fun to be creative! Not to mention enjoy a sweet treat!